COVID-19 UPDATES AND NEWS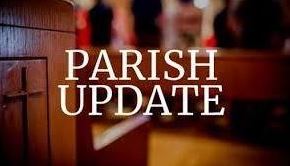 Normal Mass times have resumed:
Saturday evening at 5:00 pm.
Sunday at 7:30, 9:00, 10:30 and 12 noon.
The weekday Mass will be at 7:00 am daily.
The Miraculous Medal Novena and evenng Mass will be every Monday at 7:00 pm
Fr. Mike will celebrate an additional Mass Tuesday evening through Thursday at 7:30pm. All are welcome.
The daily expenses of the parish still continue to accumulate. Please consider donating online by following this link: Online Giving
You may also stream Mass here.
Confession Times
SATURDAY:
11:30 AM - 12:00 NOON
SATURDAY:
After 5:00 PM Mass

Announcements
May Crowning - On Monday, May 3rd, the Altar Rosary Society will hold the May crowning of our Blessed Mother at the 7pm Novena Mass. The crowning will be done by the Altar Rosarian of the year, Adriana Fama.